"Hi/Lo Thursday" posts started on the Riggs Family Blog (
http://www.riggsfamilyblog.com/
)
If you have not visited their blog, you should...it is worth the read!
The Hi part of my week, was making dinner for my Dad & brother on Sunday. I love making them home-cooked meals, because neither one gets to have them very often. The other Hi part of my week was the snow! We had almost 8 inches of snow here and Matthew had two snow days. It was so much fun playing in the snow with the boys and seeing the excitement on their faces, especially Matthew when he found out school was closed!
The
Lo
part of my week, is a little something different this week. This morning I was looking at the Riggs blog, checking the Prayers for... Wednesday post and found a prayer request for
this
little girl and her family and then I found
their blog
. My heart is breaking for them......
Please keep them in your prayers
UPDATE!!! Tuesday passed away Friday, please keep them in your prayers!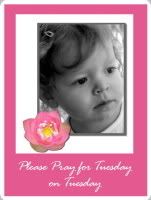 He will wipe every tear from their eyes. There will be no more death or mourning or crying or pain, for the old order of things has passed away."
Revelation 21:4